Welcome to Sykes Painting Services
Sykes Painting Services Offers Painting Services You Can Count On!
Serving the Palm Beach Area since 1998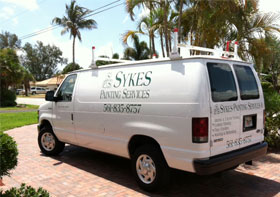 Sykes Painting Services is a full-service painting contractor serving Palm Beach, West Palm Beach, Wellington, Jupiter and Palm Beach Gardens areas of Florida. Our skilled painters provide residential and commercial interior painting services and exterior painting services to homeowners, apartment complexes, property management companies and other businesses.

In addition to painting, we also do concrete staining, power washing, seasonal touch-up painting, and many other things that will make your home or commercial property look great. Our professional painters will help you cross off many projects on your checklist. Regardless of the type of work you need us to do, you can rest assured that you will receive great customer service, and that you'll be happy with the results.

As a Palm Beach painting contractor we've taken many different types of painting projects. Our expert painters know how to get the job done with high quality in a short period of time. We are willing to tackle the most challenging jobs. Please don't hesitate to call us with your toughest paint jobs.

We can also help you by taking on an incomplete DIY project or a job that another painting company may have started but did not complete to your expectations.

We know that most homeowners don't take the decision to go through with a major house painting project lightly. We work closely with our Palm Beach customers to ensure satisfaction. Our talented and qualified painters will help you get the look and feel you want. We will happily answer any questions you may have throughout the process. We are a painting company that wants to work with you on scheduling. We will create a schedule that best accommodates your life.

If you are looking for high quality craftsmanship from a Palm Beach painting contractor that won't break your budget, you should give Sykes Painting Services a call. Give us a call today at 561-722-6763 to discuss your painting project.